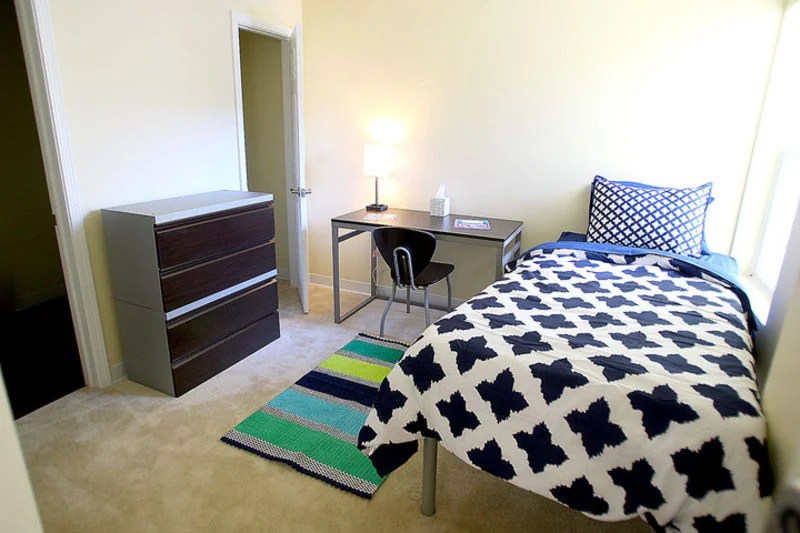 Tim Bath | Kokomo Tribune
A new apartment complex catering to Indiana University students is ready for occupancy.
Some students will be able to move into The Annex of Kokomo, located across the street from the IUK campus on Washington Street, as early as Aug. 1, while the majority of leases will begin on Aug. 15.
Mecca Companies Student Living Director of Community & Campus Relations Josie Schimpf said most of the work on the west building has been completed, while some units in the east building aren't quite finished. Crews are painting the exterior of the east building and finishing some work on counter tops and flooring.
Both two- and four-bedroom apartments are still available, with four-bedroom apartments running at $499 a month per bedroom, and two-bedroom apartments leasing for $549 a month per bedroom.
The complexes consist of 52 two-bedroom units and eight four-bedroom units. Each room will include its own bathroom, in addition to a shared living room and kitchen. Students are only responsible for their own room in the lease.
While the leasing process started slow, that's fairly common for student housing, Schimpf said, noting interest in the apartments has begun to pick up significantly in recent weeks.
"I think a lot of students are still waiting to hear back from IU in Bloomington, so we're starting to pick up a lot more traffic from students that are now going to be going to Kokomo," she said. "Student housing is always a late-lease season."
In addition to bedrooms that range between 110 and 140 square feet each, students will have the option of having their rooms completely furnished for an additional $50 a month. Most of the utilities will be covered by the rent, including water, sewer, trash, electric, basic cable and Internet.
The complex offers plenty of amenities, including a clubhouse that is open 24 hours a day with a TV and gaming station, a study area for students and washers and dryers that students will be able to track the availability and progress of from their smartphones. Outdoor cornhole and volleyball courts will provide recreation.