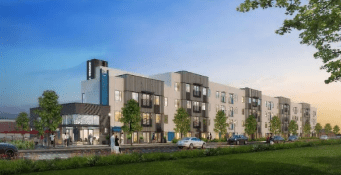 The Annex® multi-family housing development will open their doors to University of Wisconsin – Oshkosh students in fall of 2018.
Indianapolis, IN, August 2, 2017 – Indianapolis based student housing developer Annex Student Living® acquired the former Lamico factory site located at 474 – 482 Marion Road, in Oshkosh, Wisconsin on July 27, 2017. Construction activities have begun on the 140 unit/ 310 purpose-built multi-family housing development that will serve students of the UW Oshkosh campus and young professionals of the community.
Located just a quarter of a mile from the UW Oshkosh campus and near Riverwalk along the Fox River, The Annex® is the first purpose-built multi-family housing project in the Oshkosh market. Designed by KTGY Architecture + Planning, will offer fully furnished 1 bed/1bath, 2 bed/2bath and 4bed/ 4bath apartments. Units will include an in-unit washer and dryer with contemporary finishes. Amenities include an outdoor fire pit, substantial bike storage, exclusive fitness center, study work space and a clubhouse designed for resident gatherings.
Annex Construction, LLC, an affiliated entity of Annex Student Living®, will serve as the General Contractor and Landmark Properties, Inc. will serve as the Property Management Company. Construction financing is being provided locally by Choice Bank. This is the first purpose-built housing community to serve students in this market. Annex Student Living's CEO, Kyle Bach, states:
"We are thrilled to introduce a purpose-built facility for the University of Wisconsin – Oshkosh student population. The City of Oshkosh and the University have embraced us from day one. The redevelopment of a blighted, vacant asset in a core location of the community is an ideal opportunity for Annex."