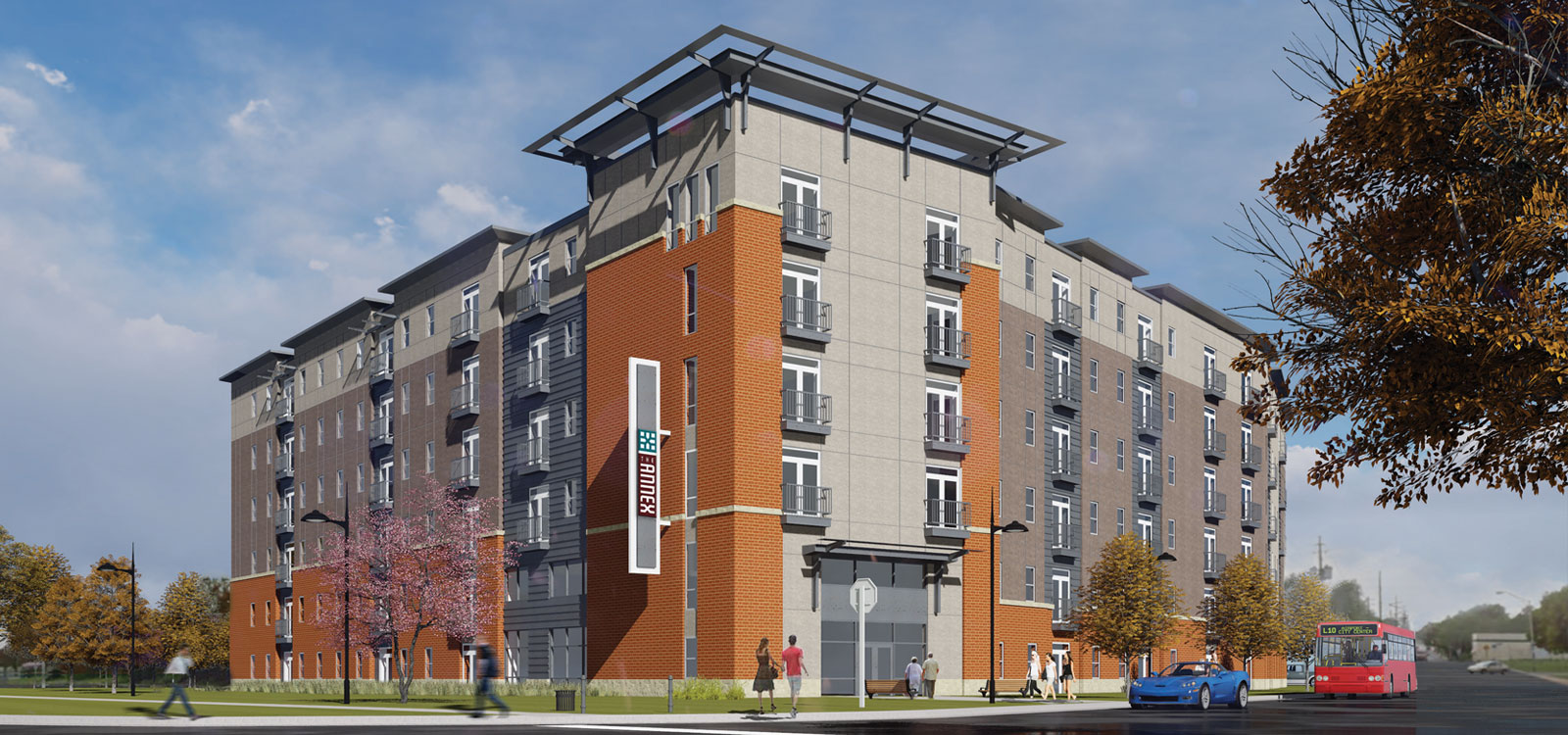 INDIANAPOLIS – Indianapolis-based student housing developer Annex Student Living will soon break ground on a six-story, 558-bed apartment development in downtown Indianapolis close to the campus of Indiana University Purdue University at Indianapolis (IUPUI). The project, called The Annex on Tenth, recently received final approval from the Indianapolis Metropolitan Development Commission.
Annex will begin readying the land for development this year and construction will start next spring. Phase I of the project will include 116-units (258 beds) with completion slated for early summer 2017. Phase II will add 110 units (300 beds) and is set to be completed by summer of 2018.
The Annex on Tenth will offer a mix of studio apartments, as well as two- and four-bedroom units and townhomes, priced from $500 to $950 per bed per month. Students will have individual leases, so even in multi-bed units each resident will be responsible for only their share of the rent.
"We began scouting locations last year to meet the need for IUPUI student housing," says Annex Student Living CEO Kyle Bach. "The two parcels of land we acquired for The Annex on Tenth were not on the market but we identified the location as convenient and ideal for students to be able to walk to campus. We're happy that we were able to come to terms with the property owners."
Annex has selected CSO Architects, American Structurepoint, Rowland Design, CONTEXT Landscape Architecture and Horizon Bank as partners on the project.
"Over the past decade, we've witnessed a significant increase in the demand for off-campus housing near regional campuses across the Midwest," said Bach. "We look forward to providing an upscale yet affordable, and conveniently located option for students close to campus."
Founded by Bach in 2009, Annex Student Living has developed or acquired 10 student-housing projects across the Midwest. The housing developer's portfolio is valued at more than $70 million with assets projected to grow in excess of $150 million by 2016.