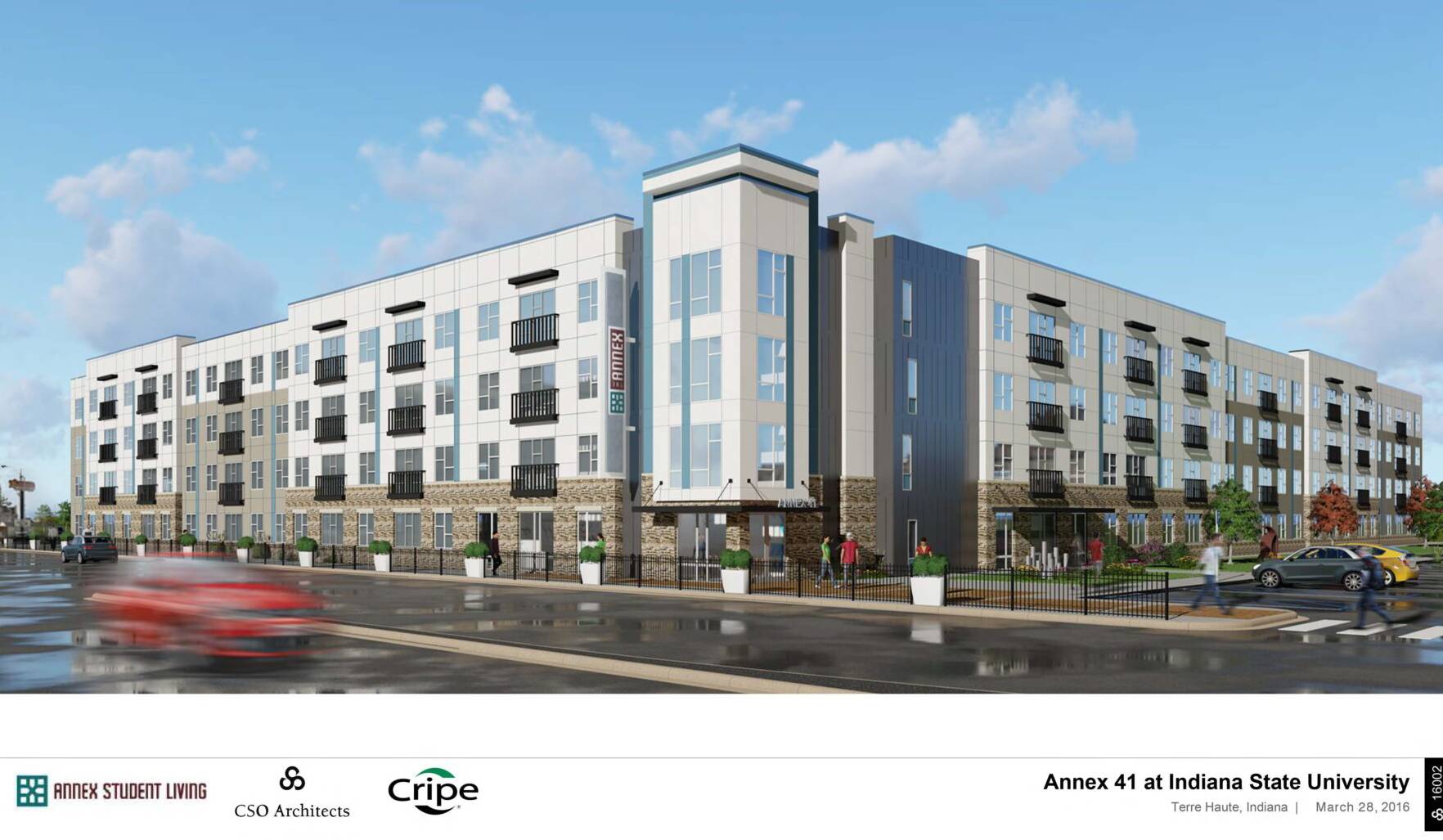 Indianapolis-based student housing developer Annex Student Living has submitted plans to the City of Terre Haute and the Terre Haute Economic Development Commission for a student housing project to be located adjacent to the Indiana State University campus. The 408-bed, $25 million development is projected to begin construction this fall with completion by fall semester of 2017.
Located at 224 N. 3rd Street, Annex 41 will offer a mix of fully-furnished studios, 2-bedroom, 2-bath and 4-bedroom, 2-bath apartments priced from approximately $499 per bed per month. Students will have individual leases, so even in multi-bed units each resident will be responsible for only their share of the rent and utilities.
"In 2015, we saw an opportunity to support the University's aggressive plans for enrollment growth. We began scouting locations that would offer Terre Haute college students an opportunity to live in a new yet affordable community just steps from campus," says Annex Student Living Founder and CEO Kyle Bach. The type of amenity‐rich housing that is envisioned for the site, Bach says, would ensure a well-planned, high quality development that would serve as a catalyst for economic development in the downtown surrounding area toward the river.
According to a 2016 Economic Impact Study completed by Applied Economics, the project will bring new activity to the downtown area and generate property and income tax revenues for the City and County. Additional impact on the community includes:
About 100 direct construction jobs and 90 additional indirect jobs would be supported the county during the construction phases in 2016 and 2017.
The land earmarked for the development at North Third Street and U.S. Highway 41 houses the Boys & Girls Club, which will receive an injection of cash when the project is approved and the purchase is complete.
The development would house 408 students whose local-area spending would support approximately 140 direct and indirect jobs.
Annex 41 will employ at least 5 full time management and leasing staff.
About $3.3 million in total direct and indirect personal income or employee payroll would be generated by the project based on student spending and property management activities.
For more information: www.annexstudentliving.com or 317-584-8442.
ABOUT ANNEX STUDENT LIVING
Annex Student Living is an Indianapolis-based student housing developer with a portfolio of apartment communities valued at more than $100 million with assets projected to grow in excess of $175 million by 2017. It is our mission to provide memorable college experiences through unique housing opportunities that serve as a catalyst for economic development.