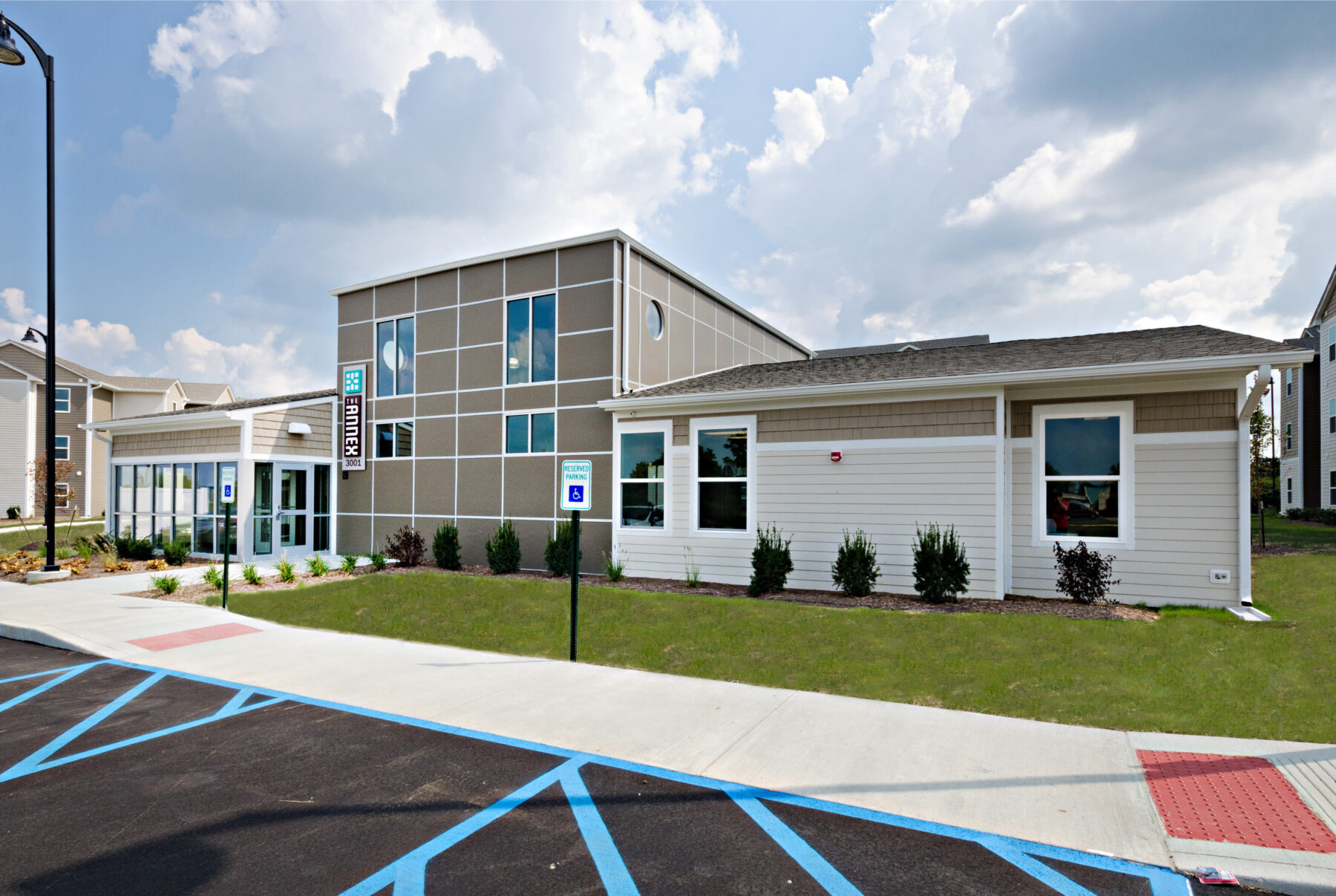 RICHMOND, Ind. – Prospective students, parents and others roamed the one building standing during an open house Wednesday at The Annex of Richmond.
Close to 50 people had toured the housing development's "clubhouse" Wednesday afternoon, many who had been yearning for years for student housing near the Indiana University East campus.
"This is something that has been missing from this campus for a long time," said IU East student Andrew Davis, a graduating senior who is applying for post-graduate study at the campus.

"I believe it certainly is a good thing," he said. "This has been kind of a commuter campus. Being able to live here and have fun here really changes everything. I think you'll see campus life grow and the campus come together."
The Annex is a housing facility, mainly aimed at students, being built adjacent to IU East and Ivy Tech Community College on Richmond's north side. The development offers 216 beds in 66 units of 2- and 4-bedroom apartments in three buildings plus the clubhouse.
There also will be more than 200 parking spaces and a walking path to the IU East/Ivy Tech campus.
It will be convenient for students and offers the opportunity for partnerships with Reid Hospital.
Dr. Paul Rider, Reid's director of medical education, toured the facility Wednesday with Pamela Lamb, director of medical education at IU East.
Rider said the hospital will explore "the possibility of leasing spaces for nursing students."
"I think this could be a bigger thing for Ivy Tech and IU East students than for us. But we are interested in exploring the possibilities," Rider said. "I do like the fact that they do have experience in projects like this.
"They seem to be aware of the problems you might find. It seems like it's pretty well thought out," he said.
Lamb said Reid is considering housing some third- and fourth-year nursing students at The Annex while studying at Reid or other area medical offices.
"We are bringing students from other campuses to this area, and we want to give them a comfortable and an academically supportive housing arrangement," she said. "We want a setting that will be conducive to their studies and still offer them a campus social situation.
"Nursing students might find this a good situation," she said.
John and Sara Sinex, a husband and wife from Richmond, visited the open house to get a glimpse of the future while remembering the past.
Both attended IU East in 1975 "when there was only one building out here," Sara Sinex said. She continued her studies at IUPUI and is now a psychiatric advanced practice nurse.
John was in one of the first graduating classes for IU/Purdue programs at the Richmond campus.
"I think this is an important continuation of the growth of education in our community," John Sinex said.
"What I have noticed is the cultural change that happened here a couple of years ago when (IU East) went to younger, more traditional students," Sara Sinex said. "I think this will be very helpful to them."
"In a sense, it will complete the campus experience," John Sinex said. "It's a continuation of the growth we've seen over the last 40 years."